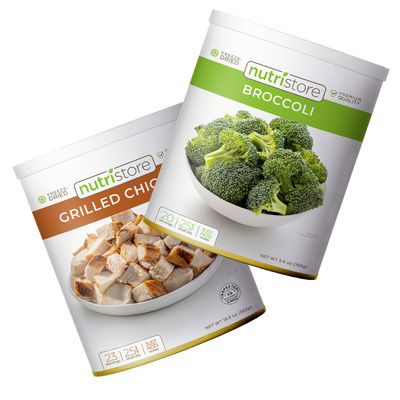 Nutristore® was established in 2012, built upon core principles of nutrition-focused, shelf-stable and budget-conscious freeze dried food. As we refresh our brand and update our website, we are doubling down on our original mission: to provide the best tasting and most versatile freeze dried foods on the market.
Our unique and proprietary freeze drying process ensures Nutristore® products keep their original taste and texture while preserving the food for 25 years. This process makes Nutristore® a smart, versatile option. Nutristore® is the best choice when it comes to providing high quality food ready in as little as 25 minutes or as long as 25 years! We can't predict when you will need to use freeze dried food, but we can promise you are receiving a high quality product full of nutrition and flavor.
We are preparedness-minded and value the importance of healthy and nutritious food regardless of the circumstance. We want to make preparedness stress-free, by providing products that are simple to use, easy to understand and delicious to eat! We keep our products free of unnecessary fillers and preservatives and combine our unique freeze drying process with high quality ingredients; this ensures proper preparedness for anything from large natural disasters and widespread pandemics, to simple everyday emergencies.
We are excited and committed to providing you with more preparedness resources such as helpful recipes, preparedness hacks, and more. As we refresh our brand and website we are preparing to launch all new exciting products to further enhance your short and long-term food supplies! We thank you for trusting us with your emergency food preparedness for the last ten years and look forward to continuing to deliver quality freeze dried food for whatever life brings!