Sweet Pork Salad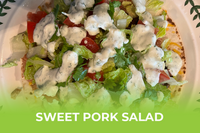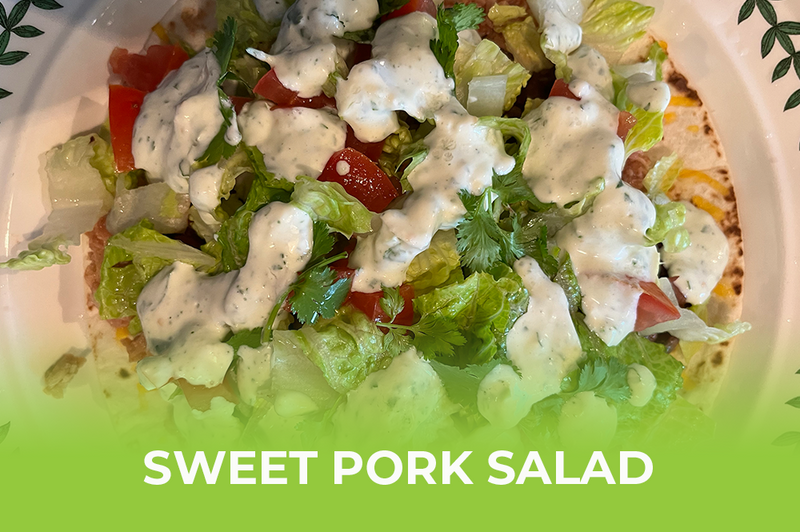 If you are fan of Cafe Rio or Costa Vida, you will love this recipe! With delicious Pulled Pork and a multitude of other fresh ingredients, this will be a new fan-favorite.
Ingredients

Salad:

Large Tortillas
1 can Black Beans-drained
Sweet Pork- see recipe below
Creamy Cilantro dressing- see recipe below
Romaine lettuce – chopped
Guacamole
Pico de gallo
Cotija Cheese
Optional- lime wedges

Sweet Pork:

Tomato sauce
2 -5 T brown sugar (more depending on your desired sweetness)
1 can Diced chilies
Cumin
Chili powder

Creamy Cilantro Ranch Dressing:

1 packet Hidden Valley Ranch mix
1 cup mayonnaise
1 cup buttermilk
2 tomatillos (remove husk, diced)
½ bunch cilantro
1 clove garlic
1 lime juiced
1 jalapeno (keep seeds in it, if you like it spicy)

Total Time

Serves
Preparation
Sweet Pork:
Add 1 cup hot water to 2 cups of pork and let sit for 20 minutes. Stir every 5 minutes.
Add green chilies
Add tomato sauce to get the consistency you want
Add spices to taste
Salad:
Melt 1/3 cup cheese on tortilla (on pan or in oven at 375 for about 5 minutes or until cheese is melted.
Cover tortilla with black beans and Sweet Pork.
Next add chopped Romaine and top with Guacamole, Pico de Gallo, and cotija cheese.
Top with Cilantro Dressing
Optional: Garnish with wedges of lime and tortilla strips
Creamy Cilantro Ranch Dressing:
Blend ingredients
---
---
Leave a Comment
You May Also Like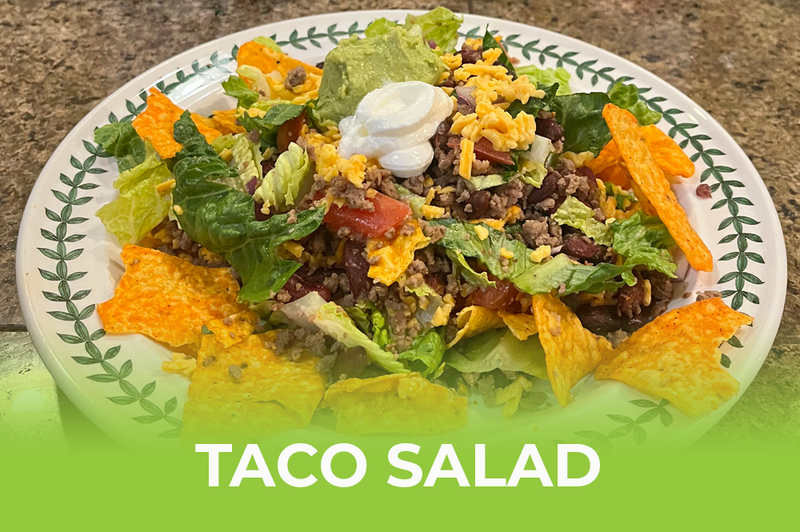 Looking for a healthy and filling dinner option? Taco Salad is a go-to favorite and is a perfect way to incorporate your freeze dried ground beef and cheese.
Recipes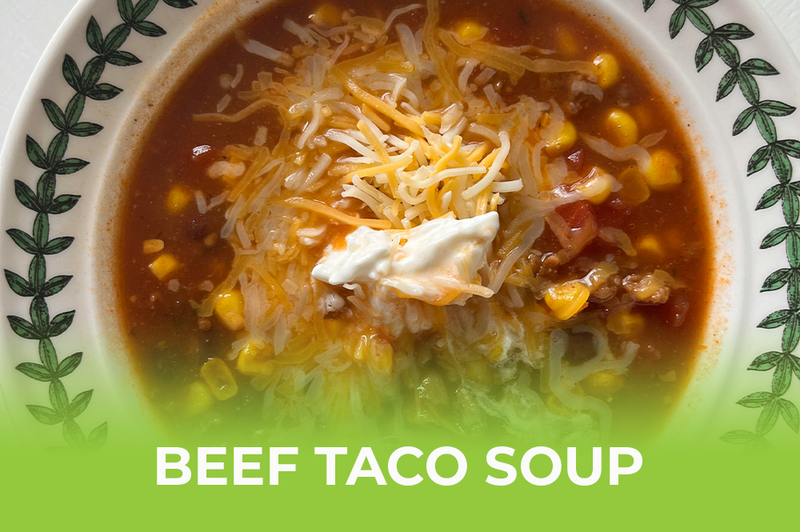 This soup is full of flavor and just the right amount of spice for a perfect recipe that everyone in the family will love.
Recipes
Shop All