Sausage Stuffing
Are you ready for Thanksgiving? This Sausage Stuffing is perfect medley of freeze-dried and fresh ingredients for a deliciously comforting side dish that elevates your holiday feast to new levels of flavor and tradition!
Ingredients

2 ½ cups Nutristore freeze-dried sausage crumbles 

8 Tablespoons Nutristore freeze-dried onions 

1 ½ cup Nutristore freeze-dried apple slices 

1 cup brown rice

¼ cup butter

2 ½ cups chicken broth

1 box dry seasoned corn bread stuffing

Optional: diced green and red pepper

Prep Time

15 Mins

Cook Time

45 Mins

Serving Size

12
Preparation
Preheat oven to 350°F

Prepare brown rice according to package directions.

Reconstitute sausage crumbles in 2 cups warm water. Let sit for 10 minutes, stir, and sit for 5 additional minutes, then drain excess water.

Reconstitute onions in 1 cup water. Let sit at least 1-3 minutes, then drain excess water.

Reconstitute apple slices in 1 1/2 cup water for 5-10 minutes, then drain excess water and chop into smaller pieces.

While waiting for the freeze-dried food to reconstitute, chop and sauté celery in butter on medium heat until tender.

Add onions to celery and sauté 2 minutes.

Add cooked rice, corn bread stuffing, sausage, apples and mix all together.

Add broth to the mixture to moisten.

Bake in a 9 x 13 pan at 350°F for 30 minutes, covered. Remove cover and bake an additional 15 minutes.
Categories: Side Dishes, Thanksgiving, Casserole, Great for Groups
Recipe by Alberta Jones & Tauna Meyers
---
---
Leave a Comment
You May Also Like
Indulge in the perfect blend of sweetness and crunch with our irresistible Freeze Dried Raspberry Pretzel Jello - a delightful treat that satisfies every craving!
Recipes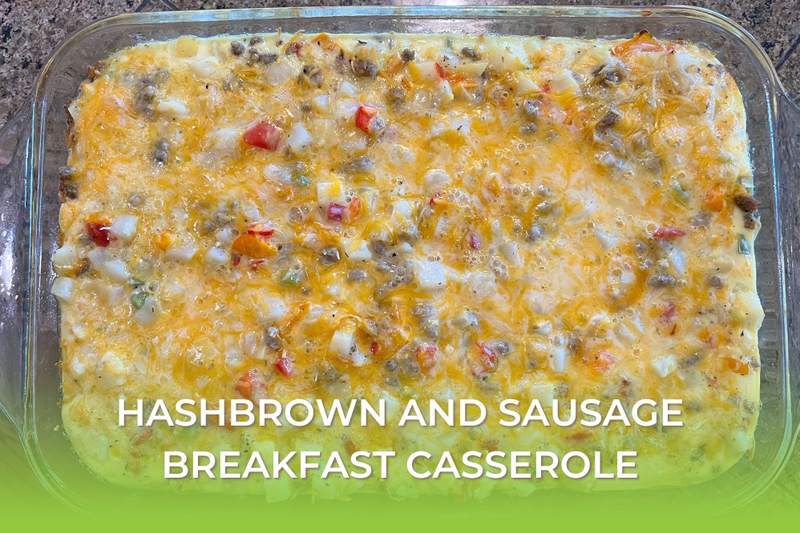 A hash browns and sausage breakfast casserole is a hearty and satisfying dish that is perfect for a weekend brunch or a quick and easy weeknight meal.
Recipes
Shop All